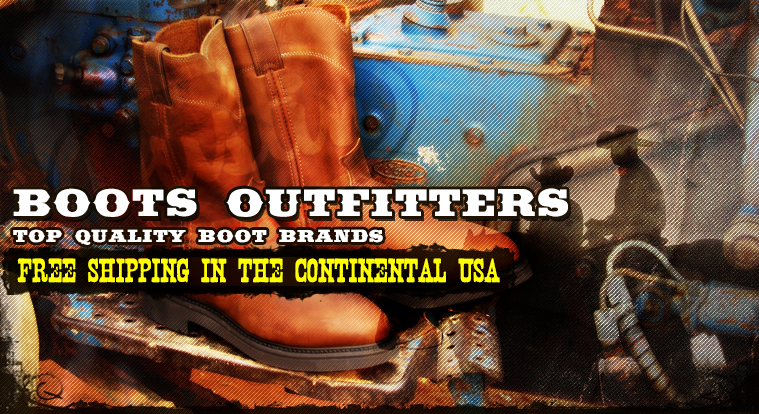 Have a Question? Email us at sales@bootoutfitters.com! We will be happy to answer any questions you may have! We are available from 10am-6pm CST Monday- Saturday.
FEATURED Tony Lama 1007 Sierra Vintage Kangaroo Boot. The foot and the shaft are vintage kangaroo on this boot. Kangaroo is a very soft skin yet it is very strong as the skin is in a woven structure. This Tony Lama is a beautiful addition to any man's collection.
Elephant Boot. Tony Lama SS1000. Saddle Vintage Elephant Boot by Tony Lama Elephant foot with a leather shaft. Very soft and comfortable. A very difficult skin to locate. Tony Lama has a beautiful elephant skin boot for you.
Justin Boot BR357. Justin Arizona Cafe Burnished Cow. Beautiful example of the boot makers art.
FEATURED Double-H DH3556 This Double-H boot has been a HOT item this year!! It is a roper style that features an 11" Red Leather Upper and a brown Old Town Folklore Leather vamp with a wide square toe and perfed saddle. This boot is Made in the USA!!
FREE SHIPPING AND HANDLING TO YOUR FRONT DOOR CONTINENTAL UNITED STATES !!!
For RETURNS, e-mail request to Sales@BootOutfitters.com and request a Return Authorization.
We sell Justin Boots and Tony Lama Boots every day in our retail store. We talk to the customers and the boot companies to select the best steel toe boots, western boots and cowboy boots for our customers needs. When we find boots that meet our criteria for value and quality, we include these boots in our website. Our retail store "The Wharf" has been selling boots for 40 years to the Northport, Alabama, community