Your Shopping Cart
Contains 0 Items ($0.00)
History of Tony Lama Boots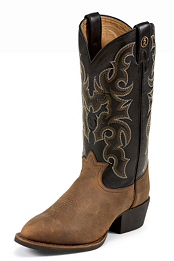 Tony Lama was born to Italian immigrants in the year 1887. Orphaned at age eleven his uncle apprenticed him to a cobbler in Syracuse, New York. As an apprentice, young Tony learned to be a cobbler and learned the properties of the different skins and leathers. He joined the United States Army and in 1910 was stationed with the Calvary at Fort Bliss, Texas. Naturally he was assigned to duty as a cobbler and started hand-crafting boots for the soldiers. His expertise as a custom boot maker spread quickly among the cowboys and ranchers of the Southwest. Once he completed his tour of duty with the Calvary he settled in the border town of El Paso, Texas. El Paso is on the border with Mexico. It is a true old west town with cowboys, soldiers and ranchers who all wore boots.
Tony Lama started his company in 1912 as a small boot repair shop on East Overland Street in El Paso. He continued to do business with the soldiers at Fort Bliss. That first year, with the help of one assistant, he repaired boots for the soldiers and hand crafted twenty pairs of hand made boots. About this time, the Army started to phased out the Calvary and Tony Lama concentrated on the western boots for his customers. Cowboys and ranchers would come to Tony Lama's shop with hides requesting custom made boots. He would hand craft custom made western boots for his customers with unmatched style and comfort.
In 1917 he married Ester Hernandez and they had six children. The children became active workers in his company. He taught his children boot making skills which had made his boots famous across the Southwest.
By 1933 his factory was producing forty pairs of boots a day. During World War II the company had a difficult time due to scarcity of leather but as soon as the war ended the business boomed. In 1946 Tony Lama turned his business into a corporation. In fact in 1948 he made of pair of custom-made boots for the President of the United States, Harry S. Truman.
Business continued to boom during the 1950's as the company became an innovator in styles and technology. They made boots that were extremely stylish for both cowboys and the general public. Some of the characteristics were low heels and vibrant colors and designs. At this time the company employed 780 employees and produced 3,100 pairs of boots a day.
Tony Lama died in 1974. The legacy created by the cobbler from Fort Bliss lives on in legendary boots made with unmatched craftsmanship and innovative technology. Today the company is owned by Berkshire Hathaway.